R PLUS LONG RANGE
AS LONG-RANGE SHOOTING IS ALSO GAINING INCREASING IMPORTANCE WITH REGARD TO RIMFIRE APPLICATIONS, RWS WILL BE LAUNCHING A .22 LR CALIBER RIMFIRE CARTRIDGE WITH AN ALL-NEW PATENTED BULLET IN THE 3RD QUARTER OF 2022: RWS R PLUS LONG RANGE.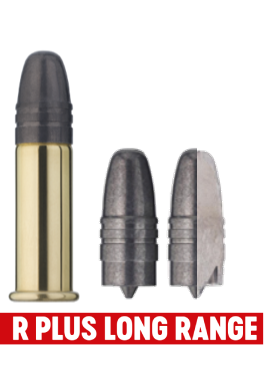 IN A NUTSHELL:
New, patented bullet design with a pointed tail thatguarantees a stable trajectory over longer distances
Unique bullet design with high BC
Special load for flat trajectory
Ideal for shooting distances over 200 m
Heavier bullet weight makes it less susceptible tocrosswinds
Lead bullet, 2,8g - V0 355 m/s
(barrel length 650 mm)
More informations:
With its innovative projectile design and higher projectile weight, the cartridge is precision-tailored to the specific requirements of long-range shooting. The tapered tail improves the aerodynamics, which in turn leads to a consistently stable trajectory; the adapted weight (2.8 g)makes the bullet less sensitive to crosswinds. Together with its highvelocity (V0 = 355 m/s), the R PLUS LONG RANGE sets a newbenchmark for accuracy at distances exceeding 200 metres. IF YOU ARE LOOKING FOR AN ACCURATE AND RELIABLE RIMFIRE CARTRIDGE FOR LONG-RANGE SHOOTING, THE NEW R PLUS LONG RANGE CAN'T ESCAPE YOUR NOTICE.