Reloading with RWS
Reloading
The do-it-yourself trend
There are plenty of reasons to load your own ammunition, among them to cut costs, improve accuracy and to enhance the experience for hunters and shooters.
DIY or reloading means customising your ammunition, a process that creates new opportunities and detailed insights into the world of ballistics for hunters and shooters alike. RWS offers first-class components to build shells to your precise specifications.
Whether you are a long-range shooter or a hunter, RWS transforms reloading into an enjoyable experience and guarantees maximum success.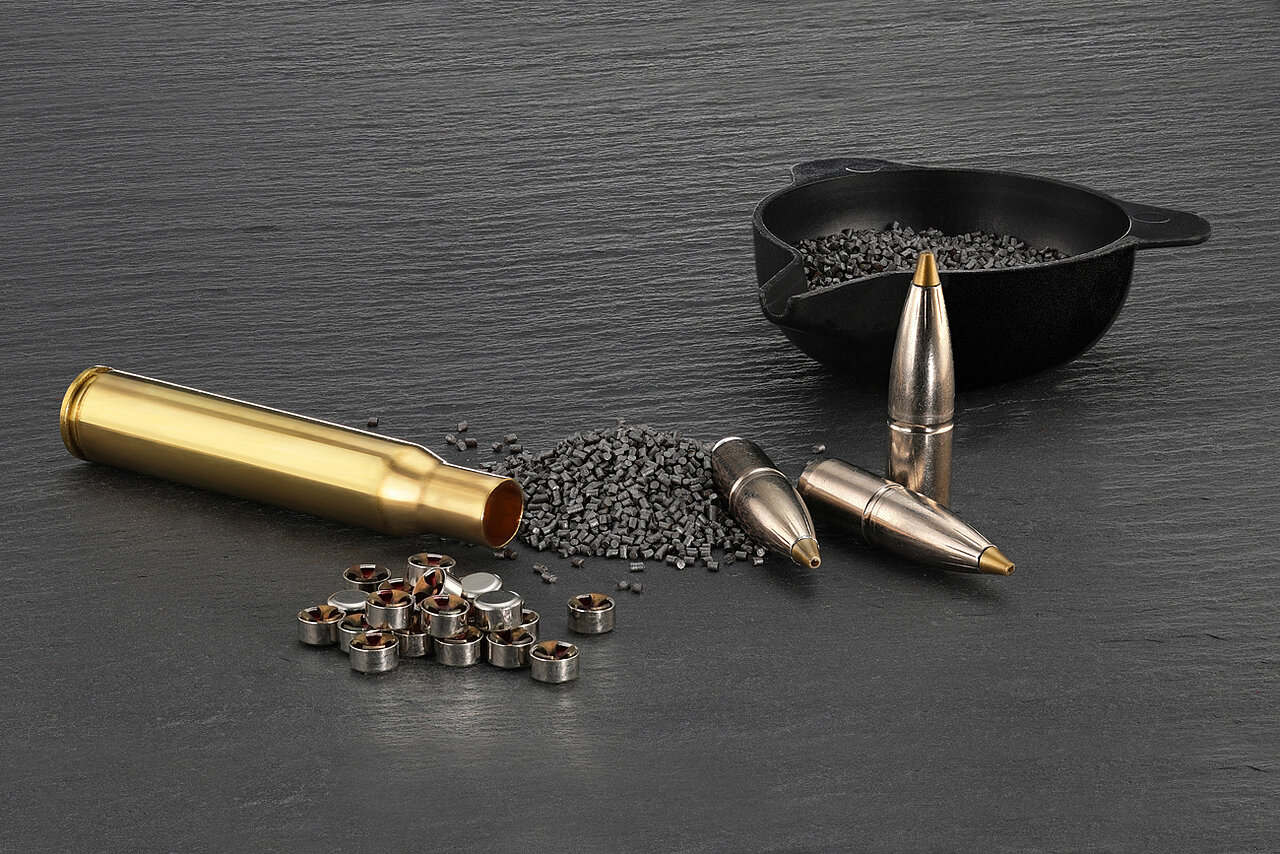 RWS RELOADING DATA
RWS RELOADING DATA
KINDLY TAKE NOTE OF THE FOLLOWING DISCLAIMER OF LIABILITY WHEN USING THIS DATA!
Use of the loading data is exclusively at your own risk.
It is well known that the ballistic values of a cartridge – of which some will be relevant to safety – depend on the dimensions of the individual firearm, the quality of components used and the various environmental influences.
This information is provided entirely without liability, as we have no control over the circumstances of storage, processing, use, load, additional factors affecting use of the powder, careful selection of other components or the condition of the firearm itself. Moreover, each reloader must ensure, on their own responsibility, that the tools, equipment, other utensils and ammunition components (bullet, cartridge case, powder and primer) they use are in a flawless condition.
For these understandable reasons, we repeatedly and explicitly point out that no liability is assumed for use of this data.
Please take note furthermore that there has been amendment in the ammunition proofing legislation (BescvhG) that stipulates a switch in measuring method using crusher cylinders made of copper to piezoelectric pressure sensors ("quartz"). Due to the different measuring methods, the maximum admissible gas pressures that currently apply are not directly comparable with the values in the "Blue Reloading Book".
We therefore recommend that you follow the recommendation that is consistently provided elsewhere and gradually approach the newly defined maximum admissible gas pressure by beginning with an initial load that is around 5% below the stated maximum charge (0.03 gram/approx. 0.5 grain increments for rifle cartridges; 0.005 gram/approx. 0.1 grain increments for handgun cartridges). Always be aware of any indications of excessive gas pressure. It may also be advisable to have the gas pressure of your individual load checked by a competent proofing offices or by DEVA, the German Experimental and Test Institute for Hunting and Sporting Firearms.
The currently valid maximum admissible gas pressures and dimensions are listed online in the CIP Tables of Dimensions and are available for public access.
No.
Calibre
Diameter [mm / inch]
Projectile manufacturer
Bullet type
Bullet weight [g]
Bullet weight [grain]
Powder manufacturer
Powder type
max. powder mass [g]
max powder mass [grain]
min. powder mass [g]
min. Powder mass [grain]
Primer cap type
Primer cap manufacturer
Primer cap model
Case manufacturer
L6 [mm]
for max. load v3 [m/s]
1
.22 Hornet
5,6 / .224
RWS
TMH
2,60
40
Rottweil
R 910
0,590
9,1
0,500
7,7
SR
RWS
4033
RWS
43,50
740
2
.22 Hornet
5,6 / .224
RWS
VMF
2,60
40
Rottweil
R 910
0,590
9,1
0,500
7,7
SR
RWS
4033
RWS
43,50
750
3
.22 Hornet
5,6 / .224
RWS
TMS
3,00
46
Rottweil
R 910
0,550
8,5
0,500
7,7
SR
RWS
4033
RWS
43,70
700
4
.22 Hornet
5,6 / .224
RWS
VMS
3,00
46
Rottweil
R 910
0,550
8,5
0,500
7,7
SR
RWS
4033
RWS
43,70
700
5
.22 Hornet
5,6 / .224
RWS
Match Jagd
3,00
46
Rottweil
R 910
0,550
8,5
0,500
7,7
SR
RWS
4033
RWS
43,50
695
6
.22 Hornet
5,6 / .224
RWS
TMS
3,20
49
Rottweil
R 910
0,530
8,2
0,500
7,7
SR
RWS
4033
RWS
44,50
640
7
.222 Rem.
5,6 / .224
RWS
Match Jagd
3,00
46
Rottweil
R 910
0,950
14,7
0,650
10,0
SR
RWS
4033
RWS
51,40
875
8
.222 Rem.
5,6 / .224
RWS
Match Jagd
3,00
46
Rottweil
R 901
1,390
21,5
1,260
19,5
SR
RWS
4033
RWS
51,40
935
9
.222 Rem.
5,6 / .224
RWS
Match Jagd
3,00
46
Rottweil
R 902
1,560
24,0
1,430
1,4
SR
RWS
4033
RWS
51,40
965
10
.222 Rem.
5,6 / .224
RWS
VMS
3,00
46
Rottweil
R 910
0,950
14,7
0,650
10,0
SR
RWS
4033
RWS
51,40
870
11
.222 Rem.
5,6 / .224
RWS
VMS
3,00
46
Rottweil
R 901
1,390
21,0
1,230
19,0
SR
RWS
4033
RWS
51,40
960
12
.222 Rem.
5,6 / .224
RWS
VMS
3,00
46
Rottweil
R 902
1,490
23,0
1,360
21,0
SR
RWS
4033
RWS
51,40
980
13
.222 Rem.
5,6 / .224
RWS
TMS
3,00
46
Rottweil
R 910
0,950
14,7
0,650
10,0
SR
RWS
4033
RWS
51,10
870
14
.222 Rem.
5,6 / .224
RWS
TMS
3,00
46
Rottweil
R 901
1,360
21,0
1,230
19,0
SR
RWS
4033
RWS
51,10
960
15
.222 Rem.
5,6 / .224
RWS
TMS
3,00
46
Rottweil
R 902
1,490
23,0
1,360
21,0
SR
RWS
4033
RWS
51,10
980
16
.222 Rem.
5,6 / .224
RWS
TMS
3,20
49
Rottweil
R 901
1,360
21,0
1,230
19,0
SR
RWS
4033
RWS
53,00
940
17
.222 Rem.
5,6 / .224
RWS
TMS
3,20
49
Rottweil
R 902
1,490
23,0
1,430
22,0
SR
RWS
4033
RWS
53,00
965
18
.222 Rem.
5,6 / .224
RWS
TMS
3,20
49
Rottweil
R 903
1,560
24,0
1,490
23,0
SR
RWS
4033
RWS
53,00
950
19
.223 Rem.
5,6 / .224
RWS
Match Jagd
3,40
52
Rottweil
R 901
1,590
24,5
1,520
23,5
SR
RWS
4033
RWS
53,80
990
20
.223 Rem.
5,6 / .224
RWS
Match Jagd
3,40
52
Rottweil
R 902
1,750
27,0
1,590
24,5
SR
RWS
4033
RWS
53,80
1005
21
.223 Rem.
5,6 / .224
RWS
TMS
4,10
63
Rottweil
R 902
1,620
25,0
1,520
23,5
SR
RWS
4033
RWS
53,80
940
22
.223 Rem.
5,6 / .224
RWS
TMS
4,10
63
Rottweil
R 903
1,750
27,0
1,620
25,0
SR
RWS
4033
RWS
53,80
940
23
.223 Rem.
5,6 / .224
RWS
TMS
4,10
63
Rottweil
R 907
1,810
28,0
1,720
26,5
SR
RWS
4033
RWS
53,80
915
24
.223 Rem.
5,6 / .224
RWS
TMS
3,00
46
Rottweil
R 901
1,490
23,0
1,430
22,0
SR
RWS
4033
RWS
53,80
940
25
.223 Rem.
5,6 / .224
RWS
TMS
3,00
46
Rottweil
R 902
1,690
26,0
1,590
24,5
SR
RWS
4033
RWS
53,80
990
26
.223 Rem.
5,6 / .224
RWS
TMS
3,00
46
Rottweil
R 903
1,810
28,0
1,720
26,5
SR
RWS
4033
RWS
53,80
980
27
.223 Rem.
5,6 / .224
RWS
Match Jagd
3,40
52
Rottweil
R 903
1,810
28,0
1,720
26,5
SR
RWS
4033
RWS
53,80
950
28
.223 Rem.
5,6 / .224
RWS
TMS
3,60
56
Rottweil
R 902
1,620
25,0
1,560
24,0
SR
RWS
4033
RWS
53,60
970
29
.223 Rem.
5,6 / .224
RWS
TMS
3,60
56
Rottweil
R 903
1,810
28,0
1,690
26,0
SR
RWS
4033
RWS
53,60
990
30
.223 Rem.
5,6 / .224
RWS
TMS
3,60
56
Rottweil
R 907
1,810
28,0
1,750
27,0
SR
RWS
4033
RWS
53,60
965
31
.223 Rem.
5,6 / .224
RWS
Match Jagd
3,00
46
Rottweil
R 901
1,490
23,0
1,430
22,0
SR
RWS
4033
RWS
53,50
945
32
.223 Rem.
5,6 / .224
RWS
Match Jagd
3,00
46
Rottweil
R 902
1,690
26,0
1,590
24,5
SR
RWS
4033
RWS
53,50
990
33
.223 Rem.
5,6 / .224
RWS
Match Jagd
3,00
46
Rottweil
R 903
1,810
28,0
1,720
26,5
SR
RWS
4033
RWS
53,50
985
34
.223 Rem.
5,6 / .224
RWS
VMS
3,00
46
Rottweil
R 901
1,490
23,0
1,430
22,0
SR
RWS
4033
RWS
53,50
950
35
.223 Rem.
5,6 / .224
RWS
VMS
3,00
46
Rottweil
R 902
1,690
26,0
1,590
24,5
SR
RWS
4033
RWS
53,50
995
36
.223 Rem.
5,6 / .224
RWS
VMS
3,00
46
Rottweil
R 903
1,810
28,0
1,720
26,5
SR
RWS
4033
RWS
53,50
980
37
.223 Rem.
5,6 / .224
RWS
TMS
3,20
49
Rottweil
R 901
1,520
23,5
1,430
22,0
SR
RWS
4033
RWS
53,80
970
38
.223 Rem.
5,6 / .224
RWS
TMS
3,20
49
Rottweil
R 902
1,650
25,5
1,560
24,0
SR
RWS
4033
RWS
53,80
970
39
.223 Rem.
5,6 / .224
RWS
TMS
3,20
49
Rottweil
R 903
1,810
28,0
1,720
26,5
SR
RWS
4033
RWS
53,80
970
40
5,6 x 57
5,6 / .224
RWS
TMS
3,00
46
Rottweil
R 910
1,490
23,0
0,970
15,0
LR
RWS
5341
RWS
65,00
1015
41
5,6 x 57
5,6 / .224
RWS
TMS
3,00
46
Rottweil
R 902
2,400
37,0
2,200
34,0
LR
RWS
5341
RWS
65,00
1040
42
5,6 x 57
5,6 / .224
RWS
TMS
3,00
46
Rottweil
R 903
2,590
40,0
2,330
36,0
LR
RWS
5341
RWS
65,00
1150
43
5,6 x 57
5,6 / .224
RWS
TMS
3,20
49
Rottweil
R 902
2,370
36,5
2,300
35,5
LR
RWS
5341
RWS
67,00
1070
44
5,6 x 57
5,6 / .224
RWS
TMS
3,20
49
Rottweil
R 903
2,530
39,0
2,330
36,0
LR
RWS
5341
RWS
67,00
1100
45
5,6 x 57
5,6 / .224
RWS
TMS
3,20
49
Rottweil
R 907
2,790
43,0
2,400
37,0
LR
RWS
5341
RWS
67,00
1150
46
5,6 x 57
5,6 / .224
RWS
Match Jagd
3,00
46
Rottweil
R 910
1,490
23,0
0,970
15,0
LR
RWS
5341
RWS
67,50
1020
47
5,6 x 57
5,6 / .224
RWS
Match Jagd
3,00
46
Rottweil
R 902
2,400
37,0
2,200
34,0
LR
RWS
5341
RWS
67,50
1040
48
5,6 x 57
5,6 / .224
RWS
Match Jagd
3,00
46
Rottweil
R 903
2,590
40,0
2,330
36,0
LR
RWS
5341
RWS
67,50
1130
49
5,6 x 57
5,6 / .224
RWS
VMS
3,00
46
Rottweil
R 910
1,490
23,0
0,970
15,0
LR
RWS
5341
RWS
65,00
1020
50
5,6 x 57
5,6 / .224
RWS
VMS
3,00
46
Rottweil
R 902
2,400
37,0
2,200
34,0
LR
RWS
5341
RWS
65,00
1040
51
5,6 x 57
5,6 / .224
RWS
VMS
3,00
46
Rottweil
R 903
2,590
40,0
2,330
36,0
LR
RWS
5341
RWS
65,00
1150
52
5,6 x 57
5,6 / .224
RWS
TMS
4,10
63
Rottweil
R 907
2,590
40,0
2,460
28,0
LR
RWS
5341
RWS
68,50
1075
53
5,6 x 57
5,6 / .224
RWS
TMS
4,10
63
Rottweil
R 904
2,750
42,5
2,660
41,0
LR
RWS
5341
RWS
68,50
1100
54
5,6 x 57
5,6 / .224
RWS
TMS
4,10
63
Rottweil
R 905
2,850
44,0
2,790
43,0
LR
RWS
5341
RWS
68,50
1055
55
5,6 x 57
5,6 / .224
RWS
Kegelspitz
4,80
74
Rottweil
R 907
2,530
39,0
2,200
34,0
LR
RWS
5341
RWS
69,00
990
56
5,6 x 57
5,6 / .224
RWS
Kegelspitz
4,80
74
Rottweil
R 904
2,530
39,0
2,330
36,0
LR
RWS
5341
RWS
69,00
960
57
5,6 x 57
5,6 / .224
RWS
Kegelspitz
4,80
74
Rottweil
R 905
2,790
43,0
2,590
40,0
LR
RWS
5341
RWS
69,00
1020
58
.243 Win.
6 / .243
RWS
Kegelspitz
6,20
96
Rottweil
R 907
2,590
40,0
2,530
39,0
LR
RWS
5341
RWS
63,30
935
59
.243 Win.
6 / .243
RWS
Kegelspitz
6,20
96
Rottweil
R 904
2,850
44,0
2,590
40,0
LR
RWS
5341
RWS
63,30
955
60
.243 Win.
6 / .243
RWS
Kegelspitz
6,20
96
Rottweil
R 905
2,920
45,0
2,720
42,0
LR
RWS
5341
RWS
63,30
950
61
6,5 x 55 SE
6,5 / .264
RWS
Evolution Green
6,00
93
Rottweil
R 904
3,046
47,0
2,851
44,0
LRM
RWS
5333
RWS
80,00
914
62
6,5 x 55 SE
6,5 / .264
RWS
Kegelspitz
8,20
127
Rottweil
R 907
2,660
41,0
2,590
40,0
LR
RWS
5341
RWS
71,90
820
63
6,5 x 55 SE
6,5 / .264
RWS
Kegelspitz
8,20
127
Rottweil
R 904
2,920
45,0
2,790
43,0
LR
RWS
5341
RWS
71,90
830
64
6,5 x 55 SE
6,5 / .264
RWS
Kegelspitz
8,20
127
Rottweil
R 905
3,110
48,0
2,950
45,5
LR
RWS
5341
RWS
71,90
835
65
6,5 x 55 SE
6,5 / .264
RWS
Doppelkern
9,10
140
Rottweil
R 907
2,660
41,0
2,530
39,0
LR
RWS
5341
RWS
73,00
805
66
6,5 x 55 SE
6,5 / .264
RWS
Doppelkern
9,10
140
Rottweil
R 904
2,920
45,0
2,790
43,0
LR
RWS
5341
RWS
73,00
805
67
6,5 x 55 SE
6,5 / .264
RWS
Doppelkern
9,10
140
Rottweil
R 905
3,010
46,5
2,850
44,0
LR
RWS
5341
RWS
73,00
800
68
6,5 x 55 SE
6,5 / .264
RWS
TMR
10,30
159
Rottweil
R 907
2,590
40,0
2,460
38,0
LR
RWS
5341
RWS
77,30
730
69
6,5 x 55 SE
6,5 / .264
RWS
TMR
10,30
159
Rottweil
R 904
2,850
44,0
2,590
40,0
LR
RWS
5341
RWS
77,30
750
70
6,5 x 55 SE
6,5 / .264
RWS
TMR
10,30
159
Rottweil
R 905
3,050
47,0
2,850
44,0
LR
RWS
5341
RWS
77,30
770
71
6,5 x 57
6,5 / .264
RWS
Evolution Green
6,00
93
Rottweil
R 904
3,175
49,0
2,981
46,0
LR
RWS
5341
RWS
80,00
939
72
6,5 x 57
6,5 / .264
RWS
Kegelspitz
8,20
127
Rottweil
R 907
2,820
43,5
2,590
40,0
LR
RWS
5341
RWS
72,90
830
73
6,5 x 57
6,5 / .264
RWS
Kegelspitz
8,20
127
Rottweil
R 904
3,050
47,0
2,790
43,0
LR
RWS
5341
RWS
72,90
865
74
6,5 x 57
6,5 / .264
RWS
Kegelspitz
8,20
127
Rottweil
R 905
3,310
51,0
3,050
47,0
LR
RWS
5341
RWS
72,90
865
75
6,5 x 57
6,5 / .264
RWS
Doppelkern
9,10
140
Rottweil
R 907
2,780
43,0
2,660
41,0
LR
RWS
5341
RWS
75,00
815
76
6,5 x 57
6,5 / .264
RWS
Doppelkern
9,10
140
Rottweil
R 904
3,110
48,0
2,920
45,0
LR
RWS
5341
RWS
75,00
820
77
6,5 x 57
6,5 / .264
RWS
Doppelkern
9,10
140
Rottweil
R 905
3,180
49,0
3,050
47,0
LR
RWS
5341
RWS
75,00
825
78
6,5 x 57
6,5 / .264
RWS
TMR
10,30
159
Rottweil
R 907
2,790
43,0
2,590
40,0
LR
RWS
5341
RWS
78,80
760
79
6,5 x 57
6,5 / .264
RWS
TMR
10,30
159
Rottweil
R 905
2,980
46,0
2,790
43,0
LR
RWS
5341
RWS
78,80
745
80
6,5 x 57
6,5 / .264
RWS
TMR
10,30
159
Rottweil
R 904
3,110
48,0
2,980
46,0
LR
RWS
5341
RWS
78,80
755
81
6,5 x 57 R
6,5 / .264
RWS
Evolution Green
6,00
93
Rottweil
R 905
3,078
47,5
2,916
45,0
LR
RWS
5341
RWS
80,00
870
82
6,5 x 57 R
6,5 / .264
RWS
Kegelspitz
8,20
127
Rottweil
R 907
2,660
41,0
2,530
39,0
LR
RWS
5341
RWS
72,90
780
83
6,5 x 57 R
6,5 / .264
RWS
Kegelspitz
8,20
127
Rottweil
R 904
2,950
45,5
2,790
43,0
LR
RWS
5341
RWS
72,90
810
84
6,5 x 57 R
6,5 / .264
RWS
Kegelspitz
8,20
127
Rottweil
R 905
3,050
47,0
2,920
45,0
LR
RWS
5341
RWS
72,90
780
85
6,5 x 57 R
6,5 / .264
RWS
Doppelkern
9,10
140
Rottweil
R 907
2,560
39,5
2,400
37,0
LR
RWS
5341
RWS
75,00
755
86
6,5 x 57 R
6,5 / .264
RWS
Doppelkern
9,10
140
Rottweil
R 904
2,850
44,0
2,660
41,0
LR
RWS
5341
RWS
75,00
755
87
6,5 x 57 R
6,5 / .264
RWS
Doppelkern
9,10
140
Rottweil
R 905
2,920
45,0
2,750
42,5
LR
RWS
5341
RWS
75,00
750
88
6,5 x 57 R
6,5 / .264
RWS
TMR
10,30
159
Rottweil
R 907
2,530
39,0
2,460
38,0
LR
RWS
5341
RWS
78,80
700
89
6,5 x 57 R
6,5 / .264
RWS
TMR
10,30
159
Rottweil
R 904
2,820
43,5
2,720
42,0
LR
RWS
5341
RWS
78,80
730
90
6,5 x 57 R
6,5 / .264
RWS
TMR
10,30
159
Rottweil
R 905
2,980
46,0
2,950
45,5
LR
RWS
5341
RWS
78,80
725
91
6,5 x 68
6,5 / .264
RWS
Evolution Green
6,00
93
Rottweil
R 904
4,342
67,0
4,147
64,0
LRM
RWS
5333
RWS
85,00
1073
92
6,5 x 68
6,5 / .264
RWS
Kegelspitz
8,20
127
Rottweil
R 907
3,600
55,5
3,430
53,0
LRM
RWS
5333
RWS
83,00
900
93
6,5 x 68
6,5 / .264
RWS
Kegelspitz
8,20
127
Rottweil
R 904
4,150
64,0
3,950
61,0
LRM
RWS
5333
RWS
83,00
940
94
6,5 x 68
6,5 / .264
RWS
Kegelspitz
8,20
127
Rottweil
R 905
4,410
68,0
4,150
64,0
LRM
RWS
5333
RWS
83,00
980
95
6,5 x 68
6,5 / .264
RWS
Doppelkern
9,10
140
Rottweil
R 907
3,530
54,5
3,370
52,0
LRM
RWS
5333
RWS
84,00
900
96
6,5 x 68
6,5 / .264
RWS
Doppelkern
9,10
140
Rottweil
R 904
3,990
61,5
3,860
59,5
LRM
RWS
5333
RWS
84,00
935
97
6,5 x 68
6,5 / .264
RWS
Doppelkern
9,10
140
Rottweil
R 905
4,110
63,5
3,990
61,5
LRM
RWS
5333
RWS
84,00
935
98
.270 Win.
.270 / .277
RWS
H-Mantel
8,40
130
Rottweil
R 907
3,240
50,0
3,180
49,0
LR
RWS
5341
RWS
81,20
900
99
.270 Win.
.270 / .277
RWS
H-Mantel
8,40
130
Rottweil
R 904
3,690
57,0
3,560
55,0
LR
RWS
5341
RWS
81,20
935
100
.270 Win.
.270 / .277
RWS
H-Mantel
8,40
130
Rottweil
R 905
3,920
60,5
3,820
59,0
LR
RWS
5341
RWS
81,20
935
101
.270 Win.
.270 / .277
RWS
Kegelspitz
9,70
150
Rottweil
R 907
3,080
47,5
2,980
46,0
LR
RWS
5341
RWS
81,20
830
102
.270 Win.
.270 / .277
RWS
Kegelspitz
9,70
150
Rottweil
R 904
3,370
52,0
3,240
50,0
LR
RWS
5341
RWS
81,20
880
103
.270 Win.
.270 / .277
RWS
Kegelspitz
9,70
150
Rottweil
R 905
3,470
53,5
3,370
52,0
LR
RWS
5341
RWS
81,20
860
104
7 x 57
7 / .284
RWS
Evolution
10,30
159
Rottweil
R 903
2,786
43,0
2,592
40,0
LR
RWS
5341
RWS
76,50
752
105
7 x 57
7 / .284
RWS
Evolution
10,30
159
Rottweil
R 907
2,786
43,0
2,592
40,0
LR
RWS
5341
RWS
76,50
748
106
7 x 57
7 / .284
RWS
Evolution Green
8,20
127
Rottweil
R 903
2,916
45,0
2,722
42,0
LR
RWS
5341
RWS
77,00
844
107
7 x 57
7 / .284
RWS
Evolution
10,30
159
Rottweil
R 904
3,078
47,5
2,884
44,5
LR
RWS
5341
RWS
76,50
783
108
7 x 57
7 / .284
RWS
Kegelspitz
8,00
123
Rottweil
R 902
2,790
43,0
2,590
40,0
LR
RWS
5341
RWS
72,00
870
109
7 x 57
7 / .284
RWS
Kegelspitz
8,00
123
Rottweil
R 903
3,050
47,0
2,920
45,0
LR
RWS
5341
RWS
72,00
890
110
7 x 57
7 / .284
RWS
Kegelspitz
8,00
123
Rottweil
R 907
3,180
49,0
3,050
47,0
LR
RWS
5341
RWS
72,00
880
111
7 x 57
7 / .284
RWS
TMR
9,00
139
Rottweil
R 902
2,750
42,5
2,590
40,0
LR
RWS
5341
RWS
72,00
800
112
7 x 57
7 / .284
RWS
TMR
9,00
139
Rottweil
R 903
2,850
44,0
2,720
42,0
LR
RWS
5341
RWS
72,00
800
113
7 x 57
7 / .284
RWS
TMR
9,00
139
Rottweil
R 907
3,050
47,0
2,920
45,0
LR
RWS
5341
RWS
72,00
800
114
7 x 57
7 / .284
RWS
Kegelspitz
10,50
162
Rottweil
R 903
2,660
41,0
2,530
39,0
LR
RWS
5341
RWS
76,00
765
115
7 x 57
7 / .284
RWS
Kegelspitz
10,50
162
Rottweil
R 907
2,920
45,0
2,790
43,0
LR
RWS
5341
RWS
76,00
790
116
7 x 57
7 / .284
RWS
Kegelspitz
10,50
162
Rottweil
R 904
3,180
49,0
3,050
47,0
LR
RWS
5341
RWS
76,00
790
117
7 x 57
7 / .284
RWS
ID Classic
10,50
162
Rottweil
R 903
2,720
42,0
2,590
40,0
LR
RWS
5341
RWS
75,00
780
118
7 x 57
7 / .284
RWS
ID Classic
10,50
162
Rottweil
R 907
2,950
45,5
2,850
44,0
LR
RWS
5341
RWS
75,00
790
119
7 x 57
7 / .284
RWS
ID Classic
10,50
162
Rottweil
R 904
3,180
49,0
3,050
47,0
LR
RWS
5341
RWS
75,00
800
120
7 x 57
7 / .284
RWS
H-Mantel
11,20
173
Rottweil
R 907
2,850
44,0
2,720
42,0
LR
RWS
5341
RWS
78,00
785
121
7 x 57
7 / .284
RWS
H-Mantel
11,20
173
Rottweil
R 904
3,110
48,0
2,980
46,0
LR
RWS
5341
RWS
78,00
780
122
7 x 57
7 / .284
RWS
H-Mantel
11,20
173
Rottweil
R 905
3,300
51,0
3,180
49,0
LR
RWS
5341
RWS
78,00
775
123
7 x 57
7 / .284
RWS
ID Classic
11,50
177
Rottweil
R 907
2,850
44,0
2,720
42,0
LR
RWS
5341
RWS
75,00
765
124
7 x 57
7 / .284
RWS
ID Classic
11,50
177
Rottweil
R 904
3,080
47,5
2,980
46,0
LR
RWS
5341
RWS
75,00
760
125
7 x 57
7 / .284
RWS
ID Classic
11,50
177
Rottweil
R 905
3,340
51,5
3,240
50,0
LR
RWS
5341
RWS
75,00
765
126
7 x 57 R
7 / .284
RWS
Evolution Green
8,20
127
Rottweil
R 904
3,078
47,5
2,884
44,5
LR
RWS
5341
RWS
77,00
804
127
7 x 57 R
7 / .284
RWS
Evolution
10,30
159
Rottweil
R 903
2,592
40,0
2,398
37,0
LR
RWS
5341
RWS
76,50
704
128
7 x 57 R
7 / .284
RWS
Evolution
10,30
159
Rottweil
R 907
2,722
42,0
2,527
39,0
LR
RWS
5341
RWS
76,50
726
129
7 x 57 R
7 / .284
RWS
Evolution
10,30
159
Rottweil
R 904
2,981
46,0
2,786
43,0
LR
RWS
5341
RWS
76,50
742
130
7 x 57 R
7 / .284
RWS
Kegelspitz
8,00
123
Rottweil
R 902
2,720
42,0
2,660
41,0
LR
RWS
5341
RWS
72,00
810
131
7 x 57 R
7 / .284
RWS
Kegelspitz
8,00
123
Rottweil
R 903
2,950
45,5
2,790
43,0
LR
RWS
5341
RWS
72,00
870
132
7 x 57 R
7 / .284
RWS
Kegelspitz
8,00
123
Rottweil
R 904
3,050
47,0
2,950
45,5
LR
RWS
5341
RWS
72,00
850
133
7 x 57 R
7 / .284
RWS
TMR
9,00
139
Rottweil
R 902
2,590
40,0
2,400
37,0
LR
RWS
5341
RWS
72,00
780
134
7 x 57 R
7 / .284
RWS
TMR
9,00
139
Rottweil
R 903
2,820
43,5
2,590
40,0
LR
RWS
5341
RWS
72,00
780
135
7 x 57 R
7 / .284
RWS
TMR
9,00
139
Rottweil
R 907
2,850
44,0
2,690
41,5
LR
RWS
5341
RWS
72,00
755
136
7 x 57 R
7 / .284
RWS
Kegelspitz
10,50
162
Rottweil
R 903
2,590
40,0
2,400
37,0
LR
RWS
5341
RWS
76,00
735
137
7 x 57 R
7 / .284
RWS
Kegelspitz
10,50
162
Rottweil
R 907
2,790
43,0
2,590
40,0
LR
RWS
5341
RWS
76,00
740
138
7 x 57 R
7 / .284
RWS
Kegelspitz
10,50
162
Rottweil
R 904
3,050
47,0
2,920
45,0
LR
RWS
5341
RWS
76,00
760
139
7 x 57 R
7 / .284
RWS
ID Classic
10,50
162
Rottweil
R 903
2,590
40,0
2,400
37,0
LR
RWS
5341
RWS
75,00
735
140
7 x 57 R
7 / .284
RWS
ID Classic
10,50
162
Rottweil
R 907
2,790
43,0
2,660
41,0
LR
RWS
5341
RWS
75,00
745
141
7 x 57 R
7 / .284
RWS
ID Classic
10,50
162
Rottweil
R 904
2,980
46,0
2,790
43,0
LR
RWS
5341
RWS
75,00
740
142
7 x 57 R
7 / .284
RWS
H-Mantel
11,20
173
Rottweil
R 907
2,750
42,5
2,620
40,5
LR
RWS
5341
RWS
78,00
730
143
7 x 57 R
7 / .284
RWS
H-Mantel
11,20
173
Rottweil
R 904
2,920
45,0
2,750
42,5
LR
RWS
5341
RWS
78,00
715
144
7 x 57 R
7 / .284
RWS
H-Mantel
11,20
173
Rottweil
R 905
3,140
48,5
3,010
46,5
LR
RWS
5341
RWS
78,00
745
145
7 x 57 R
7 / .284
RWS
TMR
11,20
173
Rottweil
R 907
2,590
40,0
2,460
38,0
LR
RWS
5341
RWS
75,00
690
146
7 x 57 R
7 / .284
RWS
TMR
11,20
173
Rottweil
R 904
2,920
45,0
2,750
42,5
LR
RWS
5341
RWS
75,00
715
147
7 x 57 R
7 / .284
RWS
TMR
11,20
173
Rottweil
R 905
3,140
48,5
3,050
47,0
LR
RWS
5341
RWS
75,00
720
148
7 x 57 R
7 / .284
RWS
ID Classic
11,50
177
Rottweil
R 903
2,460
38,0
2,330
36,0
LR
RWS
5341
RWS
75,00
690
149
7 x 57 R
7 / .284
RWS
ID Classic
11,50
177
Rottweil
R 907
2,720
42,0
2,590
40,0
LR
RWS
5341
RWS
75,00
720
150
7 x 57 R
7 / .284
RWS
ID Classic
11,50
177
Rottweil
R 905
3,110
48,0
2,980
46,0
LR
RWS
5341
RWS
75,00
725
151
7 x 64
7 / .284
RWS
Evolution
10,30
159
Rottweil
R 907
3,110
48,0
2,916
45,0
LRM
RWS
5333
RWS
82,50
808
152
7 x 64
7 / .284
RWS
Evolution
10,30
159
Rottweil
R 904
3,370
52,0
3,175
49,0
LRM
RWS
5333
RWS
82,50
836
153
7 x 64
7 / .284
RWS
Evolution
10,30
159
Rottweil
R 905
3,499
54,0
3,305
51,0
LRM
RWS
5333
RWS
82,50
820
154
7 x 64
7 / .284
RWS
Evolution Green
8,20
127
Rottweil
R 905
3,726
57,5
3,564
55,0
LRM
RWS
5333
RWS
83,50
873
155
7 x 64
7 / .284
RWS
Kegelspitz
8,00
123
Rottweil
R 903
3,400
52,5
3,240
50,0
LR
RWS
5341
RWS
80,40
950
156
7 x 64
7 / .284
RWS
Kegelspitz
8,00
123
Rottweil
R 907
3,430
53,0
3,370
52,0
LR
RWS
5341
RWS
80,40
940
157
7 x 64
7 / .284
RWS
Kegelspitz
8,00
123
Rottweil
R 904
3,860
59,5
3,690
57,0
LR
RWS
5341
RWS
80,40
975
158
7 x 64
7 / .284
RWS
TMR
9,00
139
Rottweil
R 907
3,240
50,0
3,110
48,0
LRM
RWS
5333
RWS
79,10
860
159
7 x 64
7 / .284
RWS
TMR
9,00
139
Rottweil
R 904
3,500
54,0
3,370
52,0
LRM
RWS
5333
RWS
79,10
880
160
7 x 64
7 / .284
RWS
TMR
9,00
139
Rottweil
R 905
3,820
59,0
3,690
57,0
LRM
RWS
5333
RWS
79,10
890
161
7 x 64
7 / .284
RWS
Kegelspitz
10,50
162
Rottweil
R 907
3,180
49,0
3,050
47,0
LRM
RWS
5333
RWS
82,70
800
162
7 x 64
7 / .284
RWS
Kegelspitz
10,50
162
Rottweil
R 904
3,500
54,0
3,310
51,0
LRM
RWS
5333
RWS
82,70
845
163
7 x 64
7 / .284
RWS
Kegelspitz
10,50
162
Rottweil
R 905
3,760
58,0
3,560
55,0
LRM
RWS
5333
RWS
82,70
850
164
7 x 64
7 / .284
RWS
ID Classic
10,50
162
Rottweil
R 907
3,240
50,0
3,110
48,0
LRM
RWS
5333
RWS
81,00
830
165
7 x 64
7 / .284
RWS
ID Classic
10,50
162
Rottweil
R 904
3,500
54,0
3,310
51,0
LRM
RWS
5333
RWS
81,00
845
166
7 x 64
7 / .284
RWS
ID Classic
10,50
162
Rottweil
R 905
3,760
58,0
3,560
55,0
LRM
RWS
5333
RWS
81,00
850
167
7 x 64
7 / .284
RWS
H-Mantel
11,20
173
Rottweil
R 907
3,140
48,5
2,980
46,0
LRM
RWS
5333
RWS
83,20
780
168
7 x 64
7 / .284
RWS
H-Mantel
11,20
173
Rottweil
R 904
3,310
51,0
3,180
49,0
LRM
RWS
5333
RWS
83,20
815
169
7 x 64
7 / .284
RWS
H-Mantel
11,20
173
Rottweil
R 905
3,630
56,0
3,500
54,0
LRM
RWS
5333
RWS
83,20
830
170
7 x 64
7 / .284
RWS
TMR
11,20
173
Rottweil
R 907
3,110
48,0
3,050
47,0
LRM
RWS
5333
RWS
82,50
785
171
7 x 64
7 / .284
RWS
TMR
11,20
173
Rottweil
R 904
3,430
53,0
3,240
50,0
LRM
RWS
5333
RWS
82,50
795
172
7 x 64
7 / .284
RWS
TMR
11,20
173
Rottweil
R 905
3,530
54,5
3,370
52,0
LRM
RWS
5333
RWS
82,50
805
173
7 x 64
7 / .284
RWS
ID Classic
11,50
177
Rottweil
R 907
3,180
49,0
3,050
47,0
LRM
RWS
5333
RWS
81,70
785
174
7 x 64
7 / .284
RWS
ID Classic
11,50
177
Rottweil
R 904
3,310
51,0
3,240
50,0
LRM
RWS
5333
RWS
81,70
815
175
7 x 64
7 / .284
RWS
ID Classic
11,50
177
Rottweil
R 905
3,630
56,0
3,500
54,0
LRM
RWS
5333
RWS
81,70
825
176
7 x 64
7 / .284
RWS
Speed Tip Professional
9,70
150
Rottweil
R 904
3,434
53,0
3,240
50,0
LRM
RWS
5333
RWS
83,00
837
177
7 x 64
7 / .284
RWS
Speed Tip Professional
9,70
150
Rottweil
R 905
3,629
56,0
3,434
53,0
LRM
RWS
5333
RWS
83,00
817
178
7 x 65 R
7 / .284
RWS
Evolution
10,30
159
Rottweil
R 907
3,110
48,0
2,916
45,0
LR
RWS
5341
RWS
83,00
786
179
7 x 65 R
7 / .284
RWS
Evolution
10,30
159
Rottweil
R 904
3,305
51,0
3,110
48,0
LR
RWS
5341
RWS
83,00
795
180
7 x 65 R
7 / .284
RWS
Evolution
10,30
159
Rottweil
R 905
3,499
54,0
3,305
51,0
LRM
RWS
5333
RWS
83,00
806
181
7 x 65 R
7 / .284
RWS
Evolution Green
8,20
127
Rottweil
R 905
3,661
56,5
3,499
54,0
LR
RWS
5341
RWS
83,60
846
182
7 x 65 R
7 / .284
RWS
Kegelspitz
8,00
123
Rottweil
R 903
3,370
52,0
3,310
51,0
LR
RWS
5341
RWS
80,90
915
183
7 x 65 R
7 / .284
RWS
Kegelspitz
8,00
123
Rottweil
R 907
3,430
53,0
3,310
51,0
LR
RWS
5341
RWS
80,90
930
184
7 x 65 R
7 / .284
RWS
Kegelspitz
8,00
123
Rottweil
R 904
3,690
57,0
3,500
54,0
LR
RWS
5341
RWS
80,90
930
185
7 x 65 R
7 / .284
RWS
TMR
9,00
139
Rottweil
R 907
3,180
49,0
2,920
45,0
LR
RWS
5341
RWS
80,10
820
186
7 x 65 R
7 / .284
RWS
TMR
9,00
139
Rottweil
R 904
3,470
53,5
3,370
52,0
LR
RWS
5341
RWS
80,10
820
187
7 x 65 R
7 / .284
RWS
TMR
9,00
139
Rottweil
R 905
3,630
56,0
3,500
54,0
LRM
RWS
5333
RWS
80,10
830
188
7 x 65 R
7 / .284
RWS
Kegelspitz
10,50
162
Rottweil
R 907
3,110
48,0
2,920
45,0
LR
RWS
5341
RWS
82,00
780
189
7 x 65 R
7 / .284
RWS
Kegelspitz
10,50
162
Rottweil
R 904
3,370
52,0
3,210
49,5
LR
RWS
5341
RWS
82,00
790
190
7 x 65 R
7 / .284
RWS
Kegelspitz
10,50
162
Rottweil
R 905
3,470
53,5
3,240
50,0
LRM
RWS
5333
RWS
82,00
800
191
7 x 65 R
7 / .284
RWS
ID Classic
10,50
162
Rottweil
R 907
3,140
48,5
2,980
46,0
LR
RWS
5341
RWS
82,80
795
192
7 x 65 R
7 / .284
RWS
ID Classic
10,50
162
Rottweil
R 904
3,340
51,5
3,180
49,0
LR
RWS
5341
RWS
82,80
800
193
7 x 65 R
7 / .284
RWS
ID Classic
10,50
162
Rottweil
R 905
3,470
53,5
3,240
50,0
LRM
RWS
5333
RWS
82,80
805
194
7 x 65 R
7 / .284
RWS
H-Mantel
11,20
173
Rottweil
R 907
3,110
48,0
2,920
45,0
LR
RWS
5341
RWS
83,40
785
195
7 x 65 R
7 / .284
RWS
H-Mantel
11,20
173
Rottweil
R 904
3,370
52,0
3,050
47,0
LR
RWS
5341
RWS
83,40
800
196
7 x 65 R
7 / .284
RWS
H-Mantel
11,20
173
Rottweil
R 905
3,470
53,5
3,240
50,0
LRM
RWS
5333
RWS
83,40
790
197
7 x 65 R
7 / .284
RWS
TMR
11,20
173
Rottweil
R 907
3,080
47,5
2,920
45,0
LR
RWS
5341
RWS
82,50
775
198
7 x 65 R
7 / .284
RWS
TMR
11,20
173
Rottweil
R 904
3,310
51,0
3,050
47,0
LR
RWS
5341
RWS
82,50
790
199
7 x 65 R
7 / .284
RWS
TMR
11,20
173
Rottweil
R 905
3,430
53,0
3,240
50,0
LRM
RWS
5333
RWS
82,50
790
200
7 x 65 R
7 / .284
RWS
ID Classic
11,50
177
Rottweil
R 907
3,140
48,5
2,920
45,0
LR
RWS
5341
RWS
81,70
760
201
7 x 65 R
7 / .284
RWS
ID Classic
11,50
177
Rottweil
R 904
3,210
49,5
2,980
46,0
LR
RWS
5341
RWS
81,70
755
202
7 x 65 R
7 / .284
RWS
ID Classic
11,50
177
Rottweil
R 905
3,400
52,5
3,180
49,0
LRM
RWS
5333
RWS
81,70
795
203
7 x 65 R
7 / .284
RWS
Speed Tip Professional
9,70
150
Rottweil
R 904
3,370
52,0
3,175
49,0
LRM
RWS
5333
RWS
84,00
801
204
7mm Rem. Mag.
7 / .284
RWS
Evolution Green
8,20
127
Rottweil
R 904
3,758
58,0
3,564
55,0
LRM
RWS
5333
RWS
83,50
933
205
7mm Rem. Mag.
7 / .284
RWS
Evolution
10,30
159
Rottweil
R 907
3,629
56,0
3,434
53,0
LRM
RWS
5333
RWS
82,50
858
206
7mm Rem. Mag.
7 / .284
RWS
Evolution
10,30
159
Rottweil
R 904
3,888
60,0
3,694
57,0
LRM
RWS
5333
RWS
82,50
870
207
7mm Rem. Mag.
7 / .284
RWS
Evolution
10,30
159
Rottweil
R 905
4,082
63,0
3,888
60,0
LRM
RWS
5333
RWS
82,50
873
208
7mm Rem. Mag.
7 / .284
RWS
Kegelspitz
8,00
123
Rottweil
R 907
4,000
62,0
3,890
60,0
LRM
RWS
5333
RWS
78,00
980
209
7mm Rem. Mag.
7 / .284
RWS
Kegelspitz
8,00
123
Rottweil
R 904
4,340
67,0
4,180
64,5
LRM
RWS
5333
RWS
78,00
1000
210
7mm Rem. Mag.
7 / .284
RWS
Kegelspitz
8,00
123
Rottweil
R 905
4,600
71,0
4,440
68,5
LRM
RWS
5333
RWS
78,00
1020
211
7mm Rem. Mag.
7 / .284
RWS
Kegelspitz
10,50
162
Rottweil
R 907
3,730
57,5
3,630
56,0
LRM
RWS
5333
RWS
77,50
865
212
7mm Rem. Mag.
7 / .284
RWS
Kegelspitz
10,50
162
Rottweil
R 904
3,950
61,0
3,730
57,5
LRM
RWS
5333
RWS
77,50
870
213
7mm Rem. Mag.
7 / .284
RWS
Kegelspitz
10,50
162
Rottweil
R 905
4,280
66,0
4,150
64,0
LRM
RWS
5333
RWS
77,50
920
214
7mm Rem. Mag.
7 / .284
RWS
ID Classic
10,50
162
Rottweil
R 907
3,790
58,5
3,630
56,0
LRM
RWS
5333
RWS
79,00
880
215
7mm Rem. Mag.
7 / .284
RWS
ID Classic
10,50
162
Rottweil
R 904
4,050
62,5
3,860
59,5
LRM
RWS
5333
RWS
79,00
880
216
7mm Rem. Mag.
7 / .284
RWS
ID Classic
10,50
162
Rottweil
R 905
4,240
65,5
4,150
64,0
LRM
RWS
5333
RWS
79,00
915
217
7mm Rem. Mag.
7 / .284
RWS
H-Mantel
11,20
173
Rottweil
R 907
3,630
56,0
3,430
43,0
LRM
RWS
5333
RWS
81,00
850
218
7mm Rem. Mag.
7 / .284
RWS
H-Mantel
11,20
173
Rottweil
R 904
3,890
60,0
3,760
58,0
LRM
RWS
5333
RWS
81,00
850
219
7mm Rem. Mag.
7 / .284
RWS
H-Mantel
11,20
173
Rottweil
R 905
4,340
67,0
4,150
64,0
LRM
RWS
5333
RWS
81,00
890
220
7mm Rem. Mag.
7 / .284
RWS
ID Classic
11,50
177
Rottweil
R 907
3,690
57,0
3,560
55,0
LRM
RWS
5333
RWS
78,00
850
221
7mm Rem. Mag.
7 / .284
RWS
ID Classic
11,50
177
Rottweil
R 904
3,920
60,5
3,790
58,5
LRM
RWS
5333
RWS
78,00
850
222
7mm Rem. Mag.
7 / .284
RWS
ID Classic
11,50
177
Rottweil
R 905
4,150
64,0
3,990
61,5
LRM
RWS
5333
RWS
78,00
875
223
7,5 x 55
.30 (.307-308 )
RWS
Kegelspitz
9,70
150
Rottweil
R 903
3,110
48,0
2,980
46,0
LR
RWS
5341
RWS
70,20
845
224
7,5 x 55
.30 (.307-308 )
RWS
Kegelspitz
9,70
150
Rottweil
R 907
3,240
50,0
3,110
48,0
LR
RWS
5341
RWS
70,20
855
225
7,5 x 55
.30 (.307-308 )
RWS
Kegelspitz
9,70
150
Rottweil
R 904
3,560
55,0
3,430
53,0
LR
RWS
5341
RWS
70,20
870
226
7,5 x 55
.30 (.307-308 )
RWS
H-Mantel
11,70
181
Rottweil
R 903
2,980
46,0
2,850
44,0
LR
RWS
5341
RWS
74,70
770
227
7,5 x 55
.30 (.307-308 )
RWS
H-Mantel
11,70
181
Rottweil
R 907
3,110
48,0
2,980
46,0
LR
RWS
5341
RWS
74,70
775
228
7,5 x 55
.30 (.307-308 )
RWS
H-Mantel
11,70
181
Rottweil
R 904
3,370
52,0
3,240
50,0
LR
RWS
5341
RWS
74,70
800
229
.308 Win.
7,62 / .308
RWS
Evolution Green
8,80
136
Rottweil
R 902
2,916
45,0
2,722
42,0
LR
RWS
5341
RWS
71,12
877
230
.308 Win.
7,62 / .308
RWS
Evolution
11,90
184
Rottweil
R 902
2,754
42,5
2,592
40,0
LR
RWS
5341
RWS
71,00
774
231
.308 Win.
7,62 / .308
RWS
Kegelspitz
9,70
150
Rottweil
R 902
2,850
44,0
2,590
40,0
LR
RWS
5341
RWS
68,50
840
232
.308 Win.
7,62 / .308
RWS
Kegelspitz
9,70
150
Rottweil
R 903
2,980
46,0
2,720
42,0
LR
RWS
5341
RWS
68,50
850
233
.308 Win.
7,62 / .308
RWS
Kegelspitz
9,70
150
Rottweil
R 907
3,110
48,0
2,920
45,0
LR
RWS
5341
RWS
68,50
850
234
.308 Win.
7,62 / .308
RWS
ID Classic
9,70
150
Rottweil
R 902
2,920
45,0
2,750
42,5
LR
RWS
5341
RWS
66,10
870
235
.308 Win.
7,62 / .308
RWS
ID Classic
9,70
150
Rottweil
R 903
3,140
48,5
3,010
46,5
LR
RWS
5341
RWS
66,10
865
236
.308 Win.
7,62 / .308
RWS
ID Classic
9,70
150
Rottweil
R 907
3,180
49,0
3,050
47,0
LR
RWS
5341
RWS
66,10
865
237
.308 Win.
7,62 / .308
RWS
Kegelspitz
10,70
165
Rottweil
R 902
2,790
43,0
2,590
40,0
LR
RWS
5341
RWS
69,30
810
238
.308 Win.
7,62 / .308
RWS
Kegelspitz
10,70
165
Rottweil
R 903
3,010
46,5
2,790
43,0
LR
RWS
5341
RWS
69,30
825
239
.308 Win.
7,62 / .308
RWS
Kegelspitz
10,70
165
Rottweil
R 907
3,050
47,0
2,920
45,0
LR
RWS
5341
RWS
69,30
820
240
.308 Win.
7,62 / .308
RWS
Doppelkern
10,70
165
Rottweil
R 902
2,790
43,0
2,660
41,0
LR
RWS
5341
RWS
68,80
810
241
.308 Win.
7,62 / .308
RWS
Doppelkern
10,70
165
Rottweil
R 903
3,050
47,0
2,920
45,0
LR
RWS
5341
RWS
68,80
815
242
.308 Win.
7,62 / .308
RWS
Doppelkern
10,70
165
Rottweil
R 907
3,080
47,5
2,920
45,0
LR
RWS
5341
RWS
68,80
820
243
.308 Win.
7,62 / .308
RWS
H-Mantel
11,70
181
Rottweil
R 902
2,530
39,0
2,330
36,0
LR
RWS
5341
RWS
69,90
750
244
.308 Win.
7,62 / .308
RWS
H-Mantel
11,70
181
Rottweil
R 903
2,790
43,0
2,530
39,0
LR
RWS
5341
RWS
69,90
770
245
.308 Win.
7,62 / .308
RWS
H-Mantel
11,70
181
Rottweil
R 907
2,950
45,5
2,720
42,0
LR
RWS
5341
RWS
69,90
770
246
.308 Win.
7,62 / .308
RWS
Uni Classic
11,70
181
Rottweil
R 902
2,500
38,5
2,330
36,0
LR
RWS
5341
RWS
66,60
740
247
.308 Win.
7,62 / .308
RWS
Uni Classic
11,70
181
Rottweil
R 903
2,790
43,0
2,590
40,0
LR
RWS
5341
RWS
66,60
770
248
.308 Win.
7,62 / .308
RWS
Uni Classic
11,70
181
Rottweil
R 907
2,950
45,5
2,720
42,0
LR
RWS
5341
RWS
66,60
770
249
.308 Win.
7,62 / .308
RWS
Kegelspitz
13,00
201
Rottweil
R 902
2,560
39,5
2,430
37,5
LR
RWS
5341
RWS
69,00
710
250
.308 Win.
7,62 / .308
RWS
Kegelspitz
13,00
201
Rottweil
R 903
2,790
43,0
2,590
40,0
LR
RWS
5341
RWS
69,00
710
251
.308 Win.
7,62 / .308
RWS
Kegelspitz
13,00
201
Rottweil
R 907
2,850
44,0
2,720
42,0
LR
RWS
5341
RWS
69,00
710
252
.308 Win.
7,62 / .308
RWS
Speed Tip Professional
10,70
165
Rottweil
R 903
3,046
47,0
2,916
45,0
LR
RWS
5341
RWS
70,00
822
253
.308 Win.
7,62 / .308
RWS
Evolution Green
9,00
139
Rottweil
R 902
2,786
43,0
2,592
40,0
LR
RWS
5341
RWS
70,00
864
254
.30-06 Sprg.
7,62 / .308
RWS
Evolution Green
8,80
136
Rottweil
R 907
3,499
54,0
3,305
51,0
LR
RWS
5341
RWS
83,20
894
255
.30-06 Sprg.
7,62 / .308
RWS
Evolution
11,90
184
Rottweil
R 903
3,370
52,0
3,175
49,0
LR
RWS
5341
RWS
81,50
807
256
.30-06 Sprg.
7,62 / .308
RWS
Evolution
11,90
184
Rottweil
R 907
3,337
51,5
3,175
49,0
LR
RWS
5341
RWS
81,50
789
257
.30-06 Sprg.
7,62 / .308
RWS
Evolution
11,90
184
Rottweil
R 905
3,823
59,0
3,629
56,0
LR
RWS
5341
RWS
81,50
801
258
.30-06 Sprg.
7,62 / .308
RWS
Kegelspitz
9,70
150
Rottweil
R 903
3,530
54,5
3,240
50,0
LR
RWS
5341
RWS
78,00
910
259
.30-06 Sprg.
7,62 / .308
RWS
Kegelspitz
9,70
150
Rottweil
R 907
3,630
56,0
3,430
53,0
LR
RWS
5341
RWS
78,00
890
260
.30-06 Sprg.
7,62 / .308
RWS
Kegelspitz
9,70
150
Rottweil
R 904
3,950
61,0
3,820
59,0
LR
RWS
5341
RWS
78,00
910
261
.30-06 Sprg.
7,62 / .308
RWS
ID Classic
9,70
150
Rottweil
R 903
3,560
55,0
3,400
52,5
LR
RWS
5341
RWS
77,50
920
262
.30-06 Sprg.
7,62 / .308
RWS
ID Classic
9,70
150
Rottweil
R 907
3,630
56,0
3,430
53,0
LR
RWS
5341
RWS
77,50
910
263
.30-06 Sprg.
7,62 / .308
RWS
ID Classic
9,70
150
Rottweil
R 905
4,280
66,0
4,080
63,0
LR
RWS
5341
RWS
77,50
910
264
.30-06 Sprg.
7,62 / .308
RWS
Kegelspitz
10,70
165
Rottweil
R 903
3,400
52,5
3,270
50,5
LR
RWS
5341
RWS
78,80
850
265
.30-06 Sprg.
7,62 / .308
RWS
Kegelspitz
10,70
165
Rottweil
R 904
3,690
57,0
3,560
55,0
LR
RWS
5341
RWS
78,80
840
266
.30-06 Sprg.
7,62 / .308
RWS
Kegelspitz
10,70
165
Rottweil
R 905
4,050
62,5
3,890
60,0
LR
RWS
5341
RWS
78,80
870
267
.30-06 Sprg.
7,62 / .308
RWS
Doppelkern
10,70
165
Rottweil
R 903
3,400
52,5
3,270
50,5
LR
RWS
5341
RWS
78,30
845
268
.30-06 Sprg.
7,62 / .308
RWS
Doppelkern
10,70
165
Rottweil
R 904
3,730
57,5
3,560
55,0
LR
RWS
5341
RWS
78,30
855
269
.30-06 Sprg.
7,62 / .308
RWS
Doppelkern
10,70
165
Rottweil
R 905
4,020
62,0
3,920
60,5
LR
RWS
5341
RWS
78,30
845
270
.30-06 Sprg.
7,62 / .308
RWS